Supervised Practice Will Turbo Charge Your Improvement
The most important aspect of your quest to improve your golf game is in the practice. Golf Lessons alone are not going to make you better, it is the proper practicing of what you discover and learn during lessons that make you better.
Supervised Practice sessions are included in many of our Lesson Programs and should be viewed as an integral part of your improvement process.  Golfers are also able to attend Supervised Practice sessions as an alternative to a private lesson.
During the Winter Months, our Indoor Supervised Practice sessions are limited to 3 people per class.   Throughout the Summer Months our Outdoor Supervised Practice is limited to 6 people per class.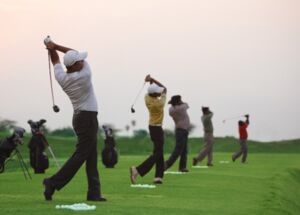 Supervised Practice is offered on a variety of days at various times so please check the current schedule to find a session that works for you.
Your coach will guide you through an effective practice session, providing drills, answering questions and providing encouragement to make sure that you get the most out of your practice and avoid common pitfalls and frustrations that can occur when golfers are left to practice on their own.
To view the schedule and reserve your spot for an upcoming session please click on a link below.   The booking system can also be access through the homepage of www.canadianfade.com.  Click on the red "Book Online" button and select the "Book A Clinic or Practice" link located in the top left corner of the page.
Outdoor Supervised Practice
Does not include the price of range balls.
Students are responsible for purchasing their own practice balls.
*Please Note* – Fairways Golf Centre gift cards (green card) are not accepted as a form of payment for Supervised Practice.
*Please Note* – Fairways Golf Centre Gift Cards (green card) are not accepted as a form of payment for Supervised Practice sessions.
Payment for Supervised Practice is to be made directly to Canadian Fade Golf Academy.  Fairways Golf Centre Gift Cards can be used for Open Practice Only.
Summer/Outdoor Supervised Practice – similar to going to the practice range by themselves, students are responsible to purchase their own bucket of balls for Supervised Practice.  The price of range balls is not included in the class fee.  After purchasing range balls students then proceed to the private/designated area of the range where they will meet their coach who is there to help them with their practice session.
Winter/Indoor Supervised Practice – only available at our North Location – Fairways Golf Centre.  The price of practice balls and facility use is included in the Supervised Practice class fee.