Beginner Private Golf Program – $299
This is the perfect plan for those who are fairly new to the game of golf and are looking for a overview of all aspects to provide them with a solid foundation. The Beginner Private Lesson Program is a month worth of instruction.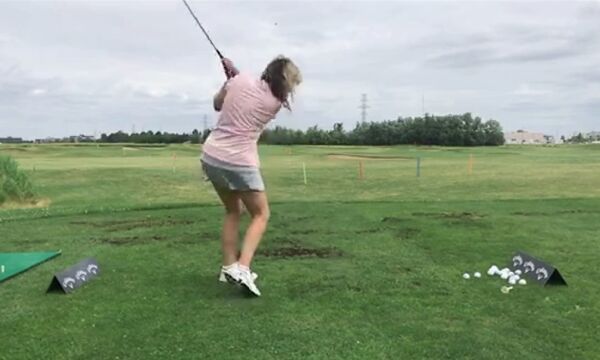 The goal of the any of our Beginner Lesson Programs whether it be private sessions or our Swing Into Golf Series is not to overwhelm students with technique, mechanics and jargon.  The goal is to have students feel confident that they are getting started in golf properly and to establish a solid foundation upon which they can build, setting them on a path of enjoying the game of golf for years to come.
Included in the Private Beginner Program
Four 1 Hour Private Lessons:
Lesson 1 – "The Basics".  Introduction To Golf's Most Important Skills and Understanding Concepts.
Lesson 2 – "Building Skill".  How To Best Practice To Improve Skill Through Drills With Feedback
Lesson 3 – "Playing The Game".  Introduction To Different Shots In Golf.  Driver to Short Game.
Lesson 4 – Review (bringing everything together)
+ access to 4 Supervised Practice sessions (details)
$299
To get started book your first session online using our Online Reservation System or please complete our Contact Us Form and indicate your interest in the Private Beginner Series.  Also please feel free to contact me directly via Phone, Email or Text to discuss the program and getting started.
Your Path To Enjoying the Game of Golf –
During the First Lesson of the Private Beginner Program we want to make sure that the students understands golf's Three Most Important Skills.  Understanding these concepts is the first step to hitting that golf ball solid.
Our Second Lesson will build on the foundation built during our first lesson.  We will add a bit more structure to the full swing by learning how the arms, wrists and hands are used during the swing.  We will work on Skill Building Drills focused on improving impact and consistency.
The Third Lesson will be dedicated to the "Short Game", (pitching, chipping and putting), you will learn the difference between a chip and a pitch along with how and when to play each shot.  We will also cover putting during the third lesson and focus in on the most important aspects of that area of the game.
The Fourth Lesson of the program allows for review and to bring everything that we have talked about and learned in the previous three lessons together.  By the time you come for you fourth lesson you hopefully have had time to take advantage of a few Supervised Practice sessions, so that during the fourth lesson we can also spend some extra time focused in on areas that may need a little more attention.
Over the course of the month students participating in the Beginner Lesson Program will have access to Weekly Beginner Supervised Practice Sessions.  These sessions allow you to practice what you have been learning under the watchful eye of your instructor.  Two Beginner Supervised Practice will be scheduled each week for you to choose from, one in the morning and one in the evening. (Supervised Practice days may vary week to week, please check online schedule). Learn more about Supervised Practice.
*Additional Option – On Course Lesson (Currently Not Available)
$99 + green fee
Upon completion of the Beginner Program students have the option of adding on a 9 Hole Group On-Course Lesson.   Adding an On-Course session allows us to make sure that we are able to transfer what we are learning on the practice range over to the golf course.  The On-Course session also allows us to discuss topics such as rules, course management and etiquette.
For further information on any of our lesson programs please feel free to contact me through the Contact Us Form, telephone: 226-926-7060 or by Email and I will be more then happy to answer any of your questions.
Looking For Beginner Group Lessons?
Consider our Swing Into Golf or Beginner Boot Camp as an alternate option.
Click Here For Details On Our Group Beginner Options.
Starting Your Private Lesson Series
One of the benefits to the Private Series is the flexibility that it provides when it comes to scheduling your lessons.  Students can get started at anytime, it is just a matter of scheduling the first session and then taking it from there.
Options for getting started:
Book your first lesson online. Using our Online Lesson Reservation system select an available day and time that is convenient for you and add to the notes section that you are interested in the Swing Into Golf Private Series and that this will be your first session.
Complete our Contact Us form indicating your interest in the Private Swing Into Golf Series and I will get back to you within 24 hrs to set up our start date.
Email, Text or Call me directly to discuss the details of getting started with your program.
I'll look forward to getting you started on your path enjoying the game of golf!