Registration For The 2023 PGA Junior League Season Is Now Open!
Be sure to register your Junior early as this is a popular program.
Bringing a team sport format to golf featuring team-vs-team play in a structured league
Canadian Fade Golf Academy – PGA Junior League
New This Season – 2 Age Divisions (dependent on registration numbers)
U13 (2010 to 2014)
U17 (2006 to 2009)
PGA Junior League Golf is a fun, social and inclusive opportunity for boys and girls ages 9 to 17 to enjoy the game of golf.  Much like other recreational league sports, participants wear numbered jerseys and play on teams with their friends.  Our Junior League programs consists of 1 Team Match and 1 Team Practice per week.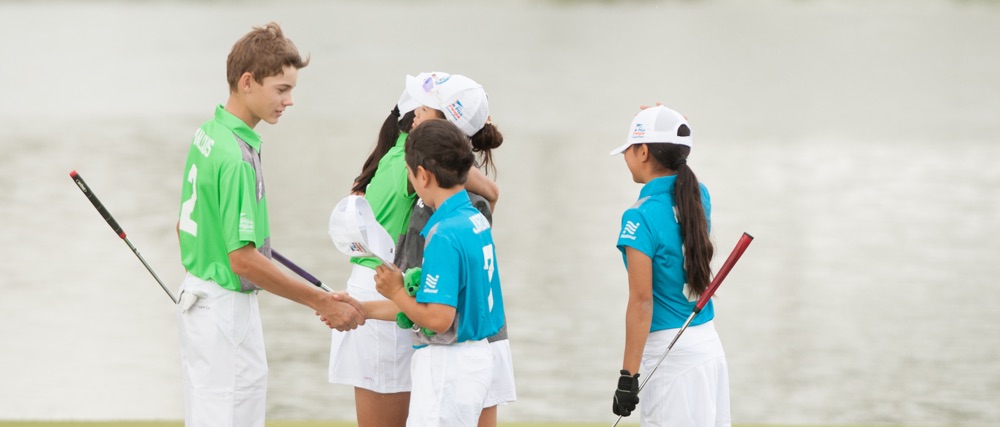 During the course of one game, teams play 9-hole matches in a popular two-person scramble format, reinforcing the team concept and creating a nurturing environment for learning the game.
Program Structure – 2023 Season Runs During July and August
Our 2023 Season will kick off with assessments the first week of July.   The season will then continue with Team Practices every Tuesday Evening and Team Matches Thursday Evenings (tentative – dependent on golf course availability).  
Team vs. Team competitions consist of 9-hole matches in July and August
Matches are 4-ball (2 vs. 2) scramble format, broken into 3-hole segments, giving every participant a chance to play
5-week regular season followed by a Championship Week.  Total of 6 weeks.
Weekly Matches Held Thursday Evenings Tee Off Between 5:30pm and 6:30pm*
Weekly Team Practices Held Tuesday Evenings Between 5pm to 7pm at Fairways Golf Centre or Bob Martin's Practice Centre*
Register Today Space is Limited For This Popular League
PGA Junior League Is
Quality Family Time
Lifelong Friendships
Coaching From PGA and LPGA Professionals
"I think, especially for young people, bringing them together in a team concept like PGA Junior League Golf and making them feel part of one goal or one purpose is incredibly valuable. They have the chance to accomplish something great together."
– Rory McIlroy
PGA Junior League – Informational Video
Be Part of A Team
PGA Jr Golf League is a fun, social and inclusive program open to both Boys and Girls between the ages of 9 – 17 of all skills levels…
Players wear numbered jerseys and play against other Junior League teams in the popular scramble format…
Have Tons of Fun
Watching kids work together as a team on the course then develop friendships after the round is what it is all about…
Interested? Register Your Child Today For The Canadian Fade Golf Academy Team
Please click on the Register Tab at the Top Left of this page then complete the short registration form to reserve a spot for your son or daughter on a team.  Space is limited.
Registration Fee $250 +hst
Includes:
6 Team Practices – Tuesday Evenings – Between 5pm to 8pm*

6 Matches – Thursday Evenings – 5pm to 7pm*
Weekly Practices Will Be Held at either Bob Martin's Practice Centre or Fairways Golf Centre
Location Of Weekly Matches Will Be Dependent On If It Is A Home Or Away Match.
Registration Closes June 30th, 2023 – Register Today Space is Limited For This Popular League.
*Practice Days and Times and Match Days and Times are tentative and will be dependent on facility and course availability.
Registration For Our 2023 PGA Junior League Season is Now Open.
Please complete the registration form below to register your child for our 2023 PGA Junior League Season.
Thank you.