Our Junior Competitive Peak Performance Program Starts In May
2023 Season Registration Now Open.
Junior Competitive Peak Performance
Canadian Fade Golf Academy offers a Junior Competitive Program for golfers 10 to 13 years of age. This program is specially designed for experienced juniors who are serious about improving their golf game and are currently playing in tournaments or who are ready to get involved in golf at a competitive level.
Juniors in the competitive program are required to make a bigger commitment to their golf game and are encouraged and expected to compete in local area Junior Tournaments.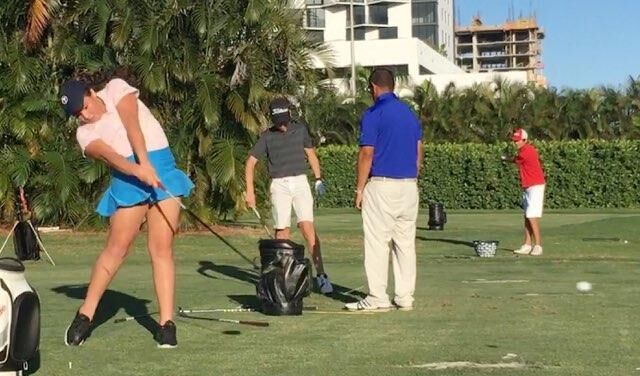 Junior Peak Performance challenges participants to improve their golf games with a large emphasis on continuing to build and refine skills through game oriented drills and group competitions.
The Junior Competitive Peak Performance Program runs from May through September.
Junior Peak Performance 10 to 13 Age Group – Elementary School
May through September
Limited To 6 Students
Weekly 90 Minute and 60 Minute Sessions
Over 50 hours of Professional Coaching
Competitive Drills and Challenges
Days and Times
Day: Tuesdays and Saturdays, beginning Saturday May 6th, 2023
Time: Tuesdays 5pm to 6pm – Saturdays 2:00pm to 3:30pm
Location: Fairways Golf Centre (1992 Fanshawe Park Rd W)
Price
May through September Full Season – $1,250 + hst
5 Monthly Payments of $250 + hst
2023 Junior Competitive Peak Performance Registration Form
Please take a moment to complete the form below to register your Junior Golfer.
Thank you.
2022 Local Area Tournament Schedule
US Kids Local Niagara Tour (closest US Kids Tour to London)
| Tournament | Event Date | Registration Deadline |
| --- | --- | --- |
| Sawmill Golf Club | May 8th, 2022 | May 3rd |
| Chedoke Golf Club | May 15th, 2022 | May 10th |
| Niagara Falls Golf Club | May 22nd, 2022 | May 17th |
| Niagara National | May 28th, 2022 | May 23rd |
| Cardinal Lakes Golf Club (Tour Championship) | May 29th, 2022 | May 24th |
Hurricane Junior Golf Tour
| Tournament | Event Date | Location | Registration Deadline |
| --- | --- | --- | --- |
| Ontario Canada Kickoff | April 30th – May 1, 2022 | Lionhead Golf & Conference Centre | April 20th |
| Toronto Junior Open | May 7th – 8th, 2022 | Cardinal Golf Club | April 27th |
| Ontario Summer Kickoff | June 11th – 12th, 2022 | Flamborough Hills Golf Club | June 1st |
| Ontario Junior Open | June 25th – 26th, 2022 | Granite Ridge Golf Club | June 15th |
| Toronto Junior Open at Tanglecreek | July 9th – 10th, 2022 | Tangle Creek Golf & Country Club | June 29th |
| Mill Run Summer Junior Open | August 15th – 16th, 2022 | Mill Run Golf Course | August 5th |
Maple Leaf Junior Golf Tour
Schedule Coming Soon